Sunflower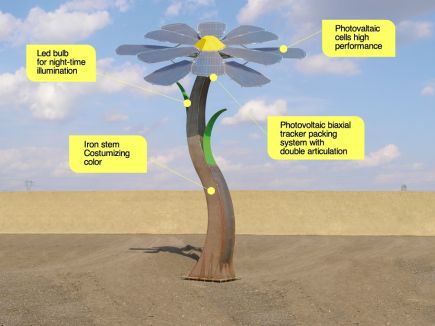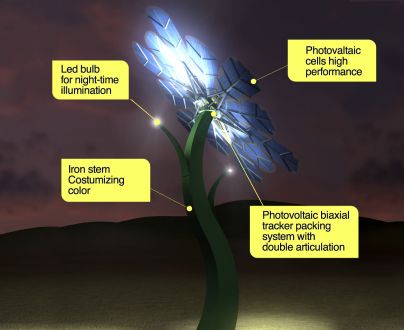 Sunflower is a pure biaxial tracker packing in great design and architecture. Developed from special panels and featuring compact, high-performance mechanics, Sunflower has been constructed to be especially sturdy and resistant so as to guarantee a long and efficient working life.
Power peaking 2,6 KWp. A truly unique feature are its retractable lower petals. Thanks to their continual rotary and sideways movement they come to overlap the top petals thus reducing resistance to wind by a half.
Suitable for countless applications and any domestic or urban landscaping requirement, Sunflower is easy to install anywhere and just as easy to shift about as needed. The Sunflower is an object of design, environmentally friendly and technologically advanced. Design and technology are patented Altertecno for a 100% Italian product.
With the Sunflower you can have a significant reduction in the cost of energy supply and reduced maintenance costs.
Design and mechanical parts have been patented. It has been built to resist at 120 km/h wind speed. The complete model prevde the shrinkage of the horizontal positioning of the petals and corolla for a better guarantee to gusts of strong wind.

The stem and the "cradle" of the petals can be customized in color.

The Sunflower is a modular, Altertecno offers several solutions:


2-axis tracking with retractable petals (2.6 kWp - 4,500 kWh per year *)
2-axis tracking (2.6 kWp - 4,500 kWh per year *)
Fixed (2.6 kWp - 3,500 kWh per year *)
Size of all three models are the same: 8.7 meters in height, 6 feet wide.


* Expected production in central Italy
North of Italy - 12%
South of Italy + 14%
photovoltaic